Coworking spaces are becoming more and more popular among entrepreneurs, freelancers, and creative professionals alike.
These collaborative environments can benefit you–the entrepreneur–from networking opportunities to less stress. Learn how coworking has changed the way we work in this article!
Summary Video
Table of contents
What is a coworking space?
A coworking space is an office that offers shared or private workspaces to entrepreneurs, freelancers, and creative professionals alike. These people are usually working independently on their projects but share the amenities of the office such as printers, coffee machines, furnished shared kitchen space, and much more. It's a great way to network with other creatives in your field or industry!Why coworking spaces?
The benefits of coworking spaces are plenty and can be categorized in a couple of different ways. First, the networking opportunities that come from being around so many other people doing things you could possibly want to learn about or emulate are invaluable. Second, the environment itself is often very conducive to productivity which leads us to the third benefit: less stress. Having a built-in support system of similarly-focused individuals is conducive to an overall feeling of more ease and comfort as you go about your workday.
The benefits of coworking spaces in 2021
Co-working spaces are great for entrepreneurs because they allow you the opportunity to connect with other entrepreneurs, share ideas, and find potential opportunities. You can also learn new skills that will help you in your career. Coworking spaces bring together people who are passionate about their work and can motivate you to achieve your goals, whether it is starting a business or learning new skills.
Coworking spaces are beneficial for established entrepreneurs as well because they allow you to network with other industry professionals. You may be able to find potential mentors that you wouldn't have otherwise met. Without a common space to work in with other entrepreneurs, this would be difficult.
There are several types of coworking spaces available today. Depending on the type you choose, there will be different amenities available to help facilitate your workflow. For example, some offer small business services like accounting and marketing while others offer different types of workshops to increase your knowledge in a given area. There is a coworking space that suits your needs and will help you with whatever it is you are trying to accomplish.
Modern Coworking Spaces 2021
The main benefit of modern coworking spaces is the ability for people to work together in close proximity. We can share ideas, collaborate on projects, and learn from one another. This type of environment can help you establish a strong network, which is invaluable for entrepreneurs.
Coworking spaces can also save you money because it typically includes access to high-speed internet and printers as well as other resources. This is important for many entrepreneurs, who often have tight budgets so every dollar saved counts.
The other benefits of coworking spaces are similar to traditional ones; hubs can provide business services like marketing and accounting, educational workshops, and the ability to branch out into other types of communities (artists or writers) that you may not have been able to interact with before.
2021 Coworking Spaces Trends
Coworking spaces are a great way for entrepreneurs to network and share ideas. They are beneficial to all types of entrepreneurs, whether you are just starting out or have years of experience under your belt. There is a coworking space for everyone and the more options available, the better! Coworking spaces can save you money too because it allows you access to many resources at once–including high-speed internet and printers–which would otherwise be very costly.
Interested in learning more about the cost comparison between leasing an office or renting a coworking space? Try out this handy rent calculator
Coworking spaces are great learning environments and can provide valuable education on different topics which will help you in your career. They also allow individuals to work together and share ideas, leading to new opportunities.
The trend of coworking spaces shows no sign of stopping because entrepreneurs will always be in need of help and education. This type of collaborative environment is invaluable for growing businesses–you can learn so much from others, network, and establish connections with other members.
Interesting facts about coworking spaces in 2021 you probably don't know
2021 has brought immense changes. Most have faced challenges and struggles they never imagined possible. For better and for worse, the way we live our personal and professional lives will never be the same again. Many individuals had previously established a work-life balance of 40-60 hours each week, with weekends home with family and children accompanied by 1-2 annual vacations. Today we see employees, managers, executives, and entrepreneurs all working primarily from home, creating a work-life balance conflict for most.
To no one's surprise, coworking spaces have become increasingly popular for everyone, not just entrepreneurs. Coworking spaces have struggled along with most other industries during the pandemic, and have been forced to not only evolve but adapt to these circumstances. Here are some truly fascinating facts about coworking spaces in 2021, displaying entrepreneurial resilience at its finest.
Types of Memberships Available at Coworking Spaces:
There are many different types of coworking spaces. For individuals looking for flexibility hot desks are extremely popular, followed by dedicated desk space for individuals looking for more privacy, 24/7 access to facilities, and the ability to personalize one's workspace without having to bring work their work with them each day. Lastly, private offices are in high demand with provides ultimate privacy, full control over the work-space environment, and is ideal for teams.
Hot Desk
A coworking hot desk is a perfect solution for people who commute or live in rural areas. You can go to work when it suits your schedule, which means you never have to worry about getting there on someone else's schedule. It's particularly convenient if you are looking for a coworking space to get your bearings straight before joining the office full-time.
Dedicated Desk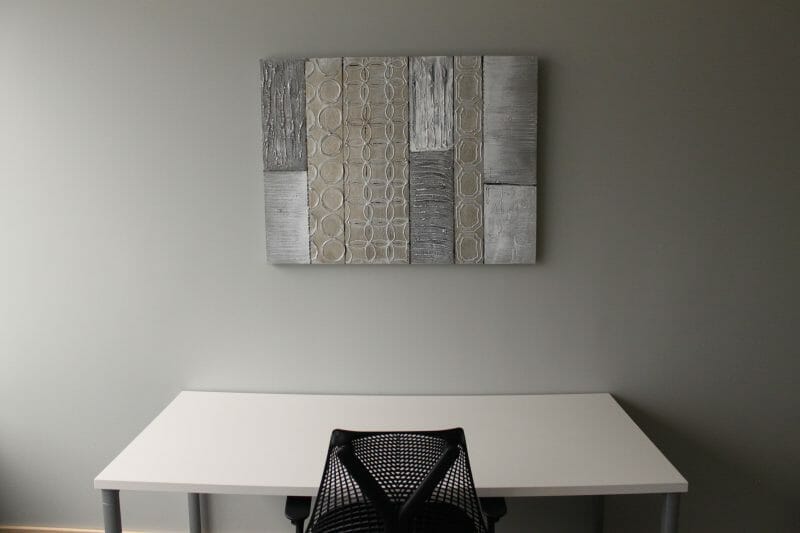 If you prefer a dedicated desk, but don't want to commit to a full office, then the coworking space is what you're looking for. Dedicated desks are perfect if your team is always on the go as it allows members easy access 24/7.
Private Office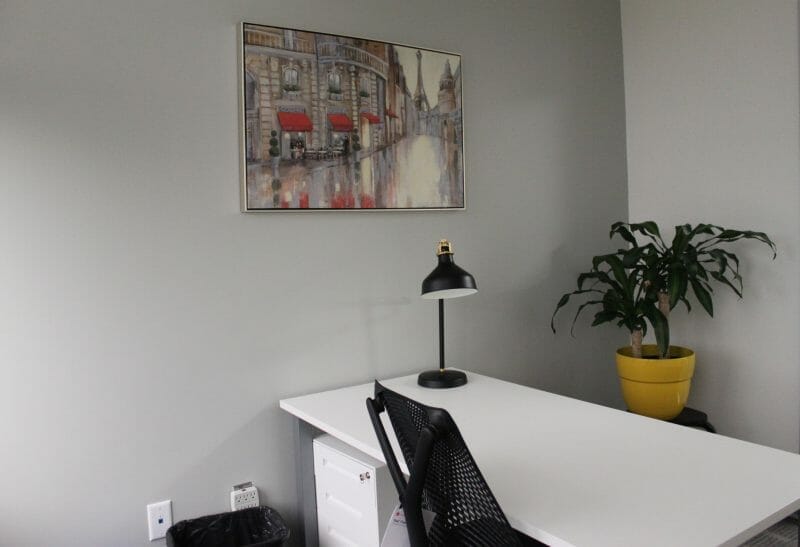 Private offices are great for small teams that need some privacy and a space to work together, where the only chatter revolves around the project your team is working on. You also don't have to deal with noise–which can be distracting–and it's easier to focus when you're surrounded by just your team.
Office Suite
The coworking office suite is a concept pioneered by Workaway Offices, which envelopes multiple private offices into a larger suite, and allows for an open space for dedicated desks as well as a common area for a boardroom table. Such a workspace is an excellent advancement in the coworking industry, allowing teams that exceed the capacity of a normal private office to expand into an executive suite that accommodates private offices for executives and open space for staff and/or meeting rooms to meet with clients.
Meeting rooms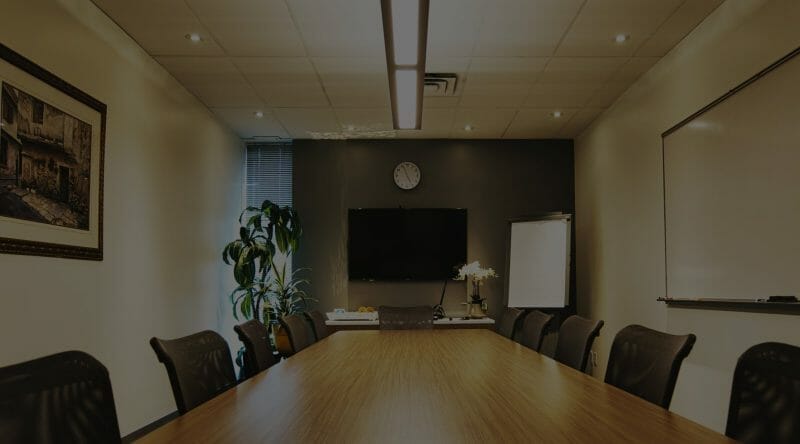 Coworking space meeting room rentals are what you need if you're trying to get things done in an office setting. The office environment plays a big role in the productivity of employees. Meeting rooms are a great way to work remotely while still getting the benefits of an office setting. If you're looking for something other than wearing headphones at Starbucks, here are some reasons why co-working space meeting room rentals are your best bet for your business.
Amenities included in most coworking memberships
A lot of coworking spaces have these great amenities to offer:
-Amenities in the building: you might be working in a space that has a cafe, daycare, or other perks like an on-site chiropractor.
-Access to tech: You might also get access to tech at your desk such as printing.
-Events and networking opportunities: Events held by the co-working space gives you even more access to people in your industry that will help to inspire you and provide collaboration opportunities.
-Access to the community: A lot of memberships provide you with access to educational resources in your community that can help you grow on an individual level or for your team.
-Wifi and other resources onsite: You might get free wifi, printers, and printing services while you're at the coworking space.
-The best thing about working in a coworking space is that you're never too far from coffee. Access to drinks such as coffee, tea, and soft drinks are included with most memberships and free snacks are available for all! Not only does this save time on having breakfast when everyone has woken up early together but it's also a great way for you to welcome guests who come for a meeting throughout the day, or during lunchtime – just offer them whatever they want if there isn't anything special planned yet.
Coworking Day Passes: Try a Place Out Before Joining
If you want to try out a coworking space before committing, day passes are the way to go! You can test out your idea space for one day and come back if you need more time. There's no risk in giving a few coworking spaces a try – find the perfect space for you, there's no rush.
24/7 Access
Most people are used to working an 8-hour workday, but for some, the idea of being locked out of your office is unacceptable. This is where 24/7 access comes in handy. When there's no time limit on when you can show up at the office, you have more flexibility to plan around your life outside of work.
Coworking for Tech Startups
Like with most tech startups, the environment is everything. Regardless if clients are time-zones away, fostering a positive, productive and welcoming environment for your team is essential. Other benefits of coworking workspaces for tech startups are that they give the flexibility to adjust work schedules and up-size/downsze on demand.
Health and Safety of Coworking Spaces: Creating a Healthier Workplace
In response to COVID-19 coworking spaces have updated their safety standards for the safety and security of all members. They are now carrying out intensive and frequent cleanings in order to protect members and their clients. Such measures would include increased spacing between seats in common areas. Expanded workstations to maintain healthy distances between members. Signs with friendly reminders about social distancing, professional conduct, and how to practice clean working.
How to find a coworking space in your area
One of the first things to do when you are looking for a coworking space is to just ask around. This might seem like an obvious answer, but the truth is that there are plenty of coworking spaces that are hidden away or need to be found through word of mouth or other simple methods such as a quick Google search which would help you find coworking spaces in your area.
If you're reading this from Ottawa, Ontario.  We have a quick directory of 7 coworking spaces for you:
Workaway Offices
WorkAway Offices is a new type of coworking space in Ottawa that flows with creativity, passion and stimulates productivity. Possessing an amazing atmosphere, you can also look out for personal growth alongside business success going hand in glove here! One thing that really makes Workaway stand apart from other coworking spaces is their private office model, with leases available on a month-to-month or annual agreement.
900 Lady Ellen Pl, Ottawa, ON K1Z 5L5
1505 Laperriere Avenue, Ottawa ON K1Z 7T1
Impact hub
Impact Hub Ottawa is a space for people who are looking to make an impact. This building houses not only coworkers but also those in entrepreneurship. 
123 Slater St. 6th floor, Ottawa, ON K1P 5H2
Coworkly Ottawa
Convenient location, a friendly yet professional work environment, and plenty of opportunities for creativity all combine to make Coworkly Ottawa an excellent place to meet with your peers.
371a Richmond Rd #4, Ottawa, ON K2A 0E7
261 Montréal Rd #310, Vanier, ON K1L 8C7
Collab Space
Collab Space is a place where you can work and collaborate with other people. It is a community with mentors who will help you do anything, from starting your business to building it up.
70 Bongard Ave, Nepean ON K2E 7Z9
300 March rd 4th Floor, Kanata, ON K2K 2E2
Tips for successful collaboration in a coworking environment 2021
There are many reasons why you might want to work in a coworking environment. For example, you may not have the bandwidth to manage you family alongside work at home, or you might feel like you're missing out on networking opportunities. Whatever your reason for working in a coworking space, here are some tips that can help you get the most out of your experience:
-Find a community that inspires and motivates you: Coworkers can provide an invaluable source of feedback and advice. Furthermore, there's usually someone around who's experienced similar problems so they might be able to give you some guidance or help.
-Ask for help when it seems appropriate: Maybe you need assistance with something outside your area of expertise. If that's the case, don't be afraid to ask for help. It doesn't make you look weak; it makes you transparent and trustworthy (and helps to promote camaraderie).
-Attend events hosted by your community: There are usually plenty of events or meetups geared toward this kind of environment. Go ahead and take advantage of these opportunities. They're put on to reduce the barriers between you and your co-workers, so don't let them go to waste.
-Be and courteous: In any environment, there are going to be conflicts between members. Try not to let the negative stuff get you down; this is inevitable in any community. Forgive and forget, but don't compromise on your professional values.
-Be proactive: This article wouldn't be complete without mentioning that coworkers need to consciously contribute to their community. If something needs doing, volunteer yourself for the job or at least offer to help. If everyone does this, then the community will operate very smoothly.
-Be willing to give as well as take: coworkers are your friends and potential business colleagues so it's only fair that you return any favors they do for you by helping them out with something in return.
How Coworking is Helping to Start-up the Job Market in 2021
One of the biggest issues in today's job market is finding and landing a stable, well-paying job that matches your life goals. However, it seems like coworking spaces might be able to help alleviate this problem. The general idea behind these spaces is that you have an environment where people can cultivate a productive, efficient workspace for any business. You can also network with other people who are in similar industries or are looking for jobs; so if starting a business, or expanding your existing business is your dream, the benefits of coworking office space are perfect for you!
The benefits of coworking spaces extend beyond the office, though. Coworking communities often have community events that can be beneficial for meeting new people in different business fields, learning skills to enhance your resume, or simply socializing. This kind of diversity in a space can make you stand out from the crowd, or it might even lead to new ideas for your future career.
The Future of Coworking Spaces
The future of coworking spaces is a difficult thing to truly predict. Technology continues to change the way we work and the nature of these collaborative environments will likely continue to change as well. However, it seems like there are always new ideas and concepts that are developed every day that could very well shape the future of these collaborative environments.
Coworking Trend Prediction
Despite the difficulty in predicting where coworking spaces are headed, there are some predictions that seem fairly likely. More closely linked to emerging technologies like virtual reality, augmented reality, and machine learning are all things that could very well shape the future of coworking. Instead of being an environment where people work in person, it may become an environment where people work virtually–with the help of emerging technologies. This could be on a personal or business level, but either way, this is something to look out for in the future.
The takeaway
The benefits of coworking spaces are endless. They provide an opportunity to network with other entrepreneurs in your field, collaborate on projects, and share ideas for new businesses. But what about the actual space? Coworking trends are always evolving–so much so that it's hard to predict where they might go next! However, one trend that seems likely is a future when people work virtually, accessing all the benefits of coworking, alongside physically being in the office.